12924 Optical Particle Counter
Lasair Particle Counter Specifications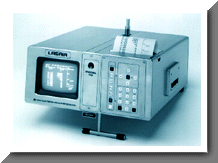 Description
The LASAIR Optical Particle Counters are specifically designed for contamination monitoring in cleanroom facilities. This complete line of aerosol instruments operates using a passive laser cavity and sample flow cell as an integral assembly easily removed for servicing. Minimum sizing thresholds are available at 0.1, 0.2, 0.3and 0.5 microns at sample flow rates from 0.002 to 1 CFM. The variable flow rates allow for sampling HEPA filters, certifying cleanrooms and disk drive testing. Federal Standard 209E air cleanliness certification is available along with an optional 3.5 inch disk drive and electro luminescent CRT display.
An aerosol manifold can be configured to work with the LASAIR counterto allow for sampling of multiple locations within a cleanroom in an efficient manner.
The LASAIR particle counter is able to record critical contamination trends as well as short term bursts and will display this data in a time series histogram. Automatic sampling and storage of up to 99 data samples can be programmed into the system with printed reports available in full screen or compress print.
Features:
0.1, 0.15, 0.2, 0.3, and 0.5 µm sensitivities
0.3 cc/sec, 0.002, 0.01, 0.1 and 1 CFM sample flow rates
Superior optical performance
Patented passive cavity design
Highest signal-to-noise ratios
Nickel plated exterior
Flush front panel
Internally filtered cabinet cooling air
FS209E air cleanliness certification
Optional 3.5 inch disk drive and electro luminescent display